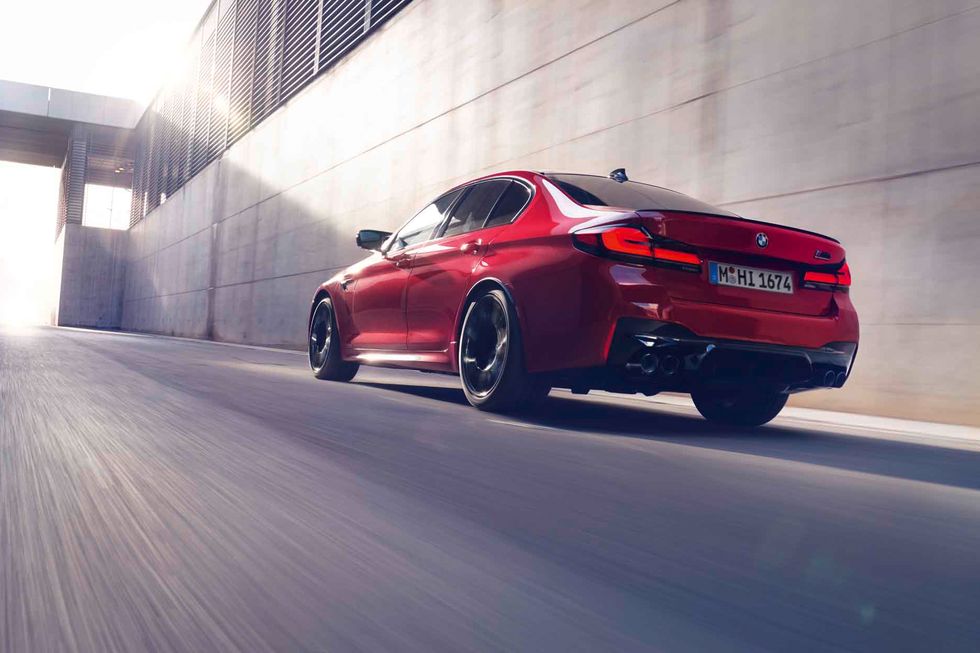 James Bond had Q. BMW has M - more precisely, BMW M, the in-house performance division that dates back decades and was once its own company. BMW M Series variants take BMW models we know and love and elevate them to hair-raising levels of performance. For next year's lineup, BMW has done it again with the 2021 BMW M5, which brings a mid-cycle refresh that perfectly embodies the BMW brand's ethos and values.
2021 BMW M5 Details 
In many ways, the BMW M5 is based on the venerable BMW 5 Series. But there's much more torque and horsepower on offer, which necessitates changes and upgrades to practically every aspect of this new BMW model. 
In this case, that means larger intakes and a larger grille, double wishbone front suspension, multilink rear suspension, adaptive shocks, six-piston brake calipers (with optional carbon ceramic discs), new shocks, and tweaks to the ECU to ensure that the 600-horsepower engine and all other systems work in harmony. 
2021 BMW M5 Safety and Special Features 
There are ample tech updates available in the 2021 BMW M5. Android Auto™ integration, which is a long time coming to new BMW models, finally takes its place alongside Apple CarPlay™ integration in this new BMW. Improved cloud-based navigation is also on offer, and the 12.3-inch infotainment display that was once an optional upgrade is now standard equipment.
Safety features are as robust as ever, but those are also getting a boost in the new 2021 BMW M5. When it arrives to BMW of Asheville, the 2021 BMW M5 will also come with Extended Traffic Jam Assist, which will be one of only two autonomous driving systems in the United States.
Buying a 2021 BMW M5 
The BMW brand entices with performance, technology, and luxury in perfect balance. BMW M Series models maintain this balance while simply giving drivers more of everything. If you want to elevate your drive, visit our BMW dealership in Arden, NC for ordering information and answers to all of your motoring questions, from financing to BMW service.