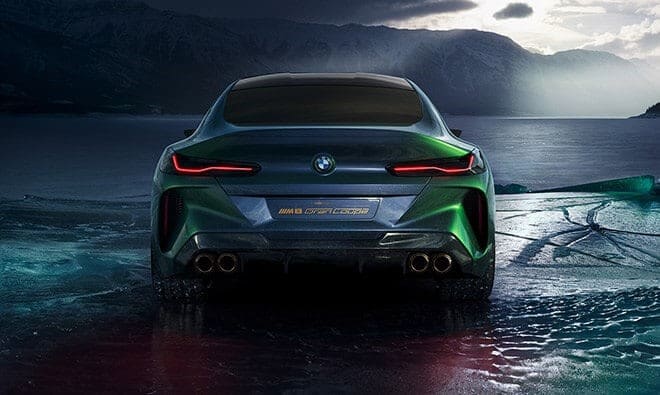 BMW automakers recently unveiled a new concept model that promises a new take on the luxury and performance drivers want from every new BMW car. The BMW Concept M8 Gran Coupe gives drivers a sneak peek at what's to come for the BMW 8 Series. While the BMW 8 Series promises to become a flagship model for the BMW company, the BMW Concept M8 Gran Coupe takes things one step further. Designed to elicit an emotional response, the new concept model stands out thanks to a modern and elegant exterior that promises speed, power, and comfort.
The low, broad design of the BMW Concept M8 Gran Coupe not only catches the eye, but represents the exciting performance abilities of the car. The side silhouette of the concept vehicle is both elegant and sporty, and the carbon fiber reinforced materials in the roof literally lower the car's center of gravity.
Even the mirrors are designed with care, made for optimal aerodynamics. From the powerful front grille to the easily recognizable M Series exhaust tailpipes, the BMW Concept M8 Gran Coupe is cohesive and evocative, immediately telling viewers what to expect from the vehicle. And each surface transitions smoothly to the next, making the whole design seamless.
Concept models like the BMW Concept M8 Gran Coupe won't arrive in the exact concept form at our BMW dealer serving Hendersonville, but they offer an exciting glimpse of what is to come. In the case of this concept model, it's a first look at what we will be seeing when the BMW 8 Series Gran Coupe and BMW M8 Gran Coupe arrive on the scene. While we wait, there's plenty of incredible BMW models that have already made the transition from concept to reality right here at BMW of Asheville.